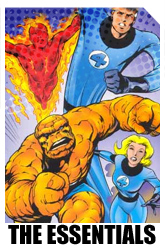 Welcome to the Marvel Essentials Library,
a part of the MarvelMasterworks.com Resource Home Page! Marvel Comics publishes a wide variety of different reprint editions, from deluxe, full-color hardcovers like Masterworks, to ultra-affordable, black & white blowouts like the ESSENTIALS. This web page will serve as a guide to the ESSENTIAL line of trade paperbacks, helping comic buyers see what is contained in an ESSENTIAL before ordering or buying one. There are little pieces of information scattered throughout the web on each volume, but there was seemingly no one place to get the full scoop on all of them. That is...until now!

For fans of the ESSENTIAL FAQ, which I've been working on over the last few years, it finally has a permanent home at MarvelMasterworks.Com. For all the answers to the "frequently asked questions" about this wonderful line of books, click the ESSENTIAL FAQ link, and it will take you there!

For a complete list of ESSENTIAL volumes, their contents, and links to buy- all on one page- click this link to access Gormuu's ESSENTIALS CORNERSHOP. All purchases made through these links help support MarvelEssentials.com and the rest of the Masterworks site!

Below this introduction, you'll find the list of upcoming ESSENTIALS that are on the horizon. It will be updated whenever new volumes are reported, so bookmark this page and check back often. And to the right of this introduction, you'll see all the books that are available in the ESSENTIAL library. Over time, I'll be creating pages dedicated to each book, with as much information as I think you can stand! I hope you enjoy it and find it to be a solid resource for you. As always, feedback is welcome, so shoot me an email at kevinricci@hotmail.com.

- - Kevin Ricci, aka EssentialFan

_______________________________


Upcoming & Recently Released
Marvel Essentials

Essential Silver Surfer Vol. 2
reprints Silver Surfer (1982) #1, Silver Surfer (1987) #1-18 and Annual #1, Marvel Fanfare #51
DUE 6/6

Essential Marvel Two-In-One Vol. 2
reprints Marvel Two-In-One #26-52 and Annual #2-3
DUE 6/13

Essential Defenders Vol. 3
reprints Defenders #31-60 and Annual #1
DUE 7/5

Essential Spider-Woman Vol. 2
reprints Spider-Woman #26-50, Marvel Team-Up #97, Uncanny X-Men #148
DUE 7/25

Essential Dazzler Vol. 1
reprints Dazzler #1-21, Uncanny X-Men #130-131, Amazing Spider-Man #203
DUE 8/8

Essential Daredevil Vol. 4
reprints Daredevil #75-101, Avengers #111
DUE 8/29

Marvel Essentials: The Rumor Mill

Essential Dr. Strange Vol. 3
reprints Dr. Strange #1-29, Annual #1, Tomb of Dracula #44-45
DUE September?

Essential Punisher Vol. 2
reprints Punisher #1-20, Annual #1, Daredevil #257
DUE September?

Essential Moon Knight Vol. 2
reprints Moon Knight #11-30
DUE October?

Essential Werewolf By Night Vol. 2
reprints Werewolf by Night #21-43, Giant-Size Werewolf #2-5, Marvel Premiere #28
DUE October?